Applied Raptor Ecology: additional resources
Chapters are now available to download in PDF format.
---
Chapter 1
Priorities for Gyrfalcon research: food, weather, and phenology in a changing climate.
Alastair Franke
Chapter 2
Terminology
A. Franke, Carol McIntyre, Karen Steenhof
Chapter 3
Gyrfalcon and ptarmigan predator-prey relationship.
Olafur Nielsen, Tom Cade
Chapter 4
Systematic data management.
Cameron Nordell, A. Franke
Chapter 5
Quantifying diet.
Bryce Robinson
Chapter 6
Assessing the effects of environmental variables on nestling growth using non-linear mixed effect models.
Erik Hedlin, A. Franke
Chapter 7
An introduction to survival analysis using generalized linear mixed models.
Erik Hedlin, A. Franke
Chapter 8
Monitoring prey populations with distance sampling surveys.
Kevin Hawkshaw, A. Franke
Chapter 9
Estimating trends in ptarmigan numbers.
Jenny Brynjarsdottir, O. Nielsen
Chapter 10
Accounting for imperfect detection in estimates of yearly site occupancy.
Erik Hedlin, A. Franke
Chapter 11
Home range estimation: examples of estimator effects.
Mat Tetreault, A. Franke
Chapter 12
Body condition and reproductive phenology.
Vincent Lamarre and A. Franke
Appendix 1
A photographic and morphometric guide to aging Gyrfalcon nestlings.
David Anderson, Kurt Burnham, O. Nielsen, B. Robinson
Appendix 2
Guidelines for conducting a camera study of nesting raptors.
B. Robinson, Mark Prostor
Published by The Peregrine Fund
5668 West Flying Hawk Lane, Boise, Idaho, USA
www.peregrinefund.org
To access chapters, data sets, and code online, see http://science.peregrinefund.org/applied-raptor-ecology
Starting February 1, 2018, chapters in this book (printed and online) may be reproduced, downloaded, and distributed separately for non-profit, non-commercial purposes, provided the original author(s) and source(s) are credited. Please use the recommended citation with DOI number provided in each chapter to cite online publication.
Cover images by Gerrit Vyn
This book was made possible by the generous support of The Mohamed bin Zayed Species Conservation Fund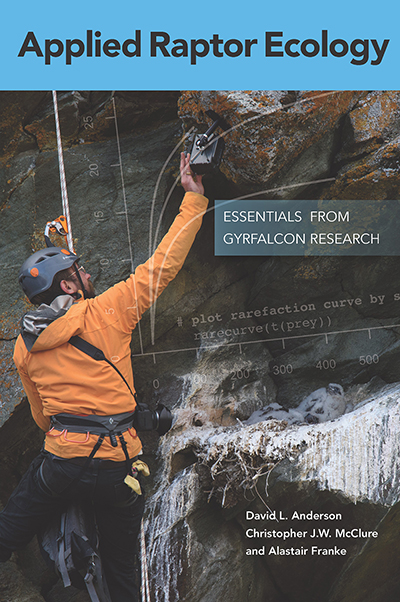 ---
Copyright ©2017 The Peregrine Fund
ISBN 978-1548430764
Preferred citation:
D.L. Anderson, C.J.W. McClure, and A. Franke, editors. 2017. Applied raptor ecology: essentials from Gyrfalcon research. The Peregrine Fund, Boise, Idaho, USA.