Applied Raptor Ecology - Essentials from Gyrfalcon Research
Applied Raptor Ecology provides raptor researchers with the blueprint to determine which questions should be asked, record consistent data usable by researchers worldwide, apply appropriate analysis of those data, and break down the obstacles to collaboration.
Editors Dr. David Anderson and Dr. Christopher McClure of The Peregrine Fund and Dr. Alastair Franke of the Arctic Raptors Project recruited 13 raptor ecology experts from around the world to contribute chapters ranging in scope from terminology to systematic data management to home range estimation: examples of estimator effects.
Anderson states, "This book is designed to be almost like a cookbook to enable readers to collect data in a standardized, well-organized manner and run analyses based on the questions they want to answer. The gyrfalcon is the species we chose as a case study to illustrate raptor biology techniques, but these methods and questions can be applied to almost any raptor species around the world."
---
Applied Raptor Ecology is a valuable addition to the bookshelf of every biologist, whether in the field for many years or as an entry level graduate planning a thesis project.
Additional features of this book include:
companion website for users to download computer code to perform analyses in R that are adaptable to individual research needs and questions
photographic and morphometric guide to aging Gyrfalcon nestlings
guidelines for conducting a camera study of nesting raptors
Published by The Peregrine Fund
5668 West Flying Hawk Lane, Boise, Idaho, USA
www.peregrinefund.org
To access chapters, data sets, and code online, see http://science.peregrinefund.org/applied-raptor-ecology
Starting February 1, 2018, chapters in this book (printed and online) may be reproduced, downloaded, and distributed separately for non-profit, non-commercial purposes, provided the original author(s) and source(s) are credited. Please use the recommended citation with DOI number provided in each chapter to cite online publication.
Cover images by Gerrit Vyn
This book was made possible by the generous support of The Mohamed bin Zayed Species Conservation Fund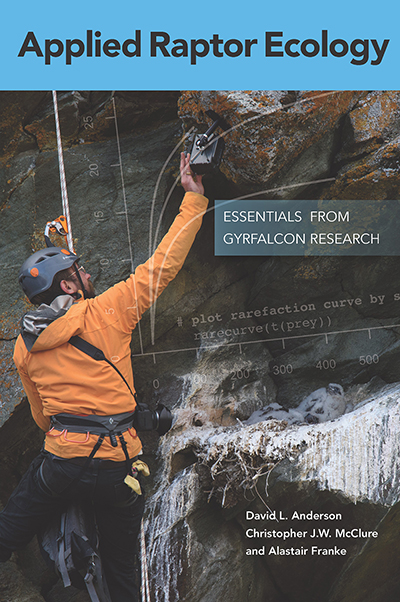 ---
Copyright ©2017 The Peregrine Fund
ISBN 978-1548430764
Preferred citation:
D.L. Anderson, C.J.W. McClure, and A. Franke, editors. 2017. Applied raptor ecology: essentials from Gyrfalcon research. The Peregrine Fund, Boise, Idaho, USA.